For this month, it's back to the drawing board, because this month's challenge is to produce a diagram. What kind of diagram is up to you: it could be anything from an anatomical diagram to a scatter-plot, or even some kind of gussied-up infographic. The only constraint is that it has to have a mention, or some kind of link, to a mineral (or the field of mineralogy).
There are no requirements as to how the diagram is produced. If you're looking for inspiration, check out informationisbeautiful.net, or search for "diagrams" on publicdomainreview.org, or for a different approach, google for "xkcd infographics".
The Results
Ryan Finholm
Anniversary Gifts; Longevity vs. Value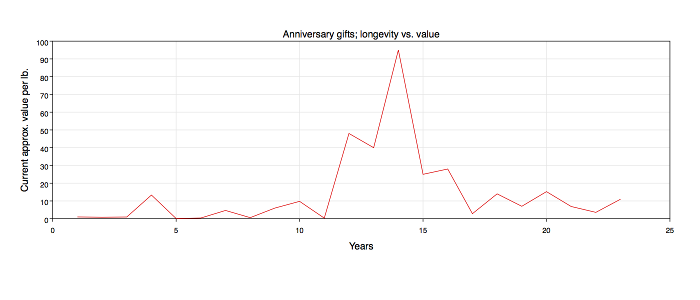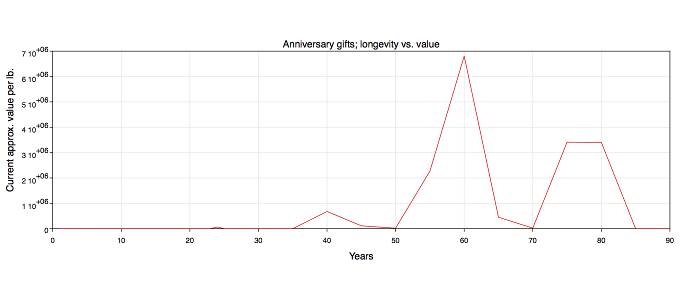 Caveat: The current 'price per pound' of each of these items varies wildly depending upon the type and form of the gift within that category. Obviously the typical paper gift would be books, or art, or stationery, instead of a ream of printer's paper or an assortment retrieved from the recycle bin, and a one- pound diamond would be considerably more valuable than one pound of diamonds, but to make this graph as objective as possible I had to channel my inner Asperger and make some of my own arbitrary, unromantic, and often impractical editorial decisions. For example, for the 6th anniversary I used the current retail price of sheet iron ($0.40/lb) instead of scrap iron ($0.07/lb), and I ignored the fact that you can only get that price for sheet iron if you buy a ton or more at a time. For the gems, I based everything on the average cost of one pound of medium-quality one-carat gems. For Pottery, I found a place online that sells pottery by the pound. For Furniture I picked seven random, different pieces of new furniture (sofa, bed frame, dining set, etc) and divided their total cost by their aggregate weight.
I also used a conglomeration of the "traditional US", "traditional UK", and "modern US" anniversary gift categories as listed in Wikipedia in order to retain continuity and avoid repeat entries. For example, I chose Wool for the 7th anniversary in order to avoid repeating the Copper anniversary at year 22, and also so I wouldn't have to approximate the per-pound value of pen and pencil sets. I chose Salt for the 8th anniversary to avoid an assortment of repeat Linen, Lace, Silk and Bronze years.
Gift legend (Year – Category):
| | |
| --- | --- |
| 1 | – Paper |
| 2 | – Cotton |
| 3 | – Leather |
| 4 | – Linen |
| 5 | – Wood |
| 6 | – Iron |
| 7 | – Wool |
| 8 | – Salt |
| 9 | – Pottery |
| 10 | – Tin |
| 11 | – Steel |
| 12 | – Silk |
| 13 | – Lace |
| 14 | – Ivory |
| 15 | – Crystal |
| 16 | – Silver Holloware |
| 17 | – Furniture |
| 18 | – Porcelain |
| 19 | – Bronze |
| | |
| --- | --- |
| 20 | – China |
| 21 | – Nickel |
| 22 | – Copper |
| 23 | – Silver Plate |
| 24 | – Opal |
| 25 | – Silver |
| 30 | – Pearl |
| 35 | – Jade |
| 40 | – Ruby |
| 45 | – Sapphire |
| 50 | – Gold |
| 55 | – Emerald |
| 60 | – Diamond |
| 65 | – Blue Sapphire |
| 70 | – Platinum |
| 75 | – Diamond and Gold |
| 80 | – Diamond and Pearl |
| 85 | – Moonstone |
| 90 | – Marble |
Brian Raiter
Power spectrum: the cosmic microwave background radiation temperature anisotropy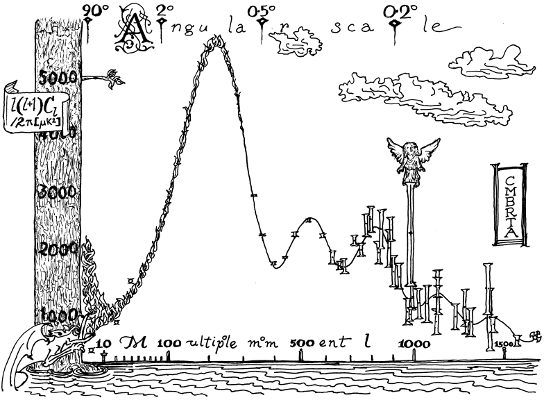 Scatter-plot diagram