Design a tattoo for yourself. Be realistic in your design (i.e. respect the constraints on color and detail). Include in your submission any information you wish to volunteer on placement and its significance.
And really do design it for yourself. You should be seriously willing to consider getting the tattoo.
The results
Ryan Finholm

Brian Raiter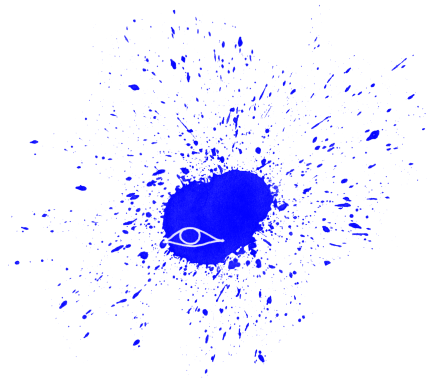 Placement: On the back, over the left shoulder blade.
This is an idea I had for a tattoo over a decade ago, realized here for the first time. It's not quite as I had imagined it would look. There's no particular significance to the image, other than the fact that I like the way ink-splatters look, and the inclusion of one of my favorite hieroglyphs.
This would probably give a tattoo artist fits trying to get all that delicate spikiness rendered accurately. Also, tattoos tend to blur over the years as the ink migrates, which would likely wind up turning this image into an unremarkable birthmark-shaped blob. Which is one reason why I decided to make it bright blue: the colored inks tend to break down and fade more quickly than the black ink. Ideally it would become a sort of ghost-tattoo before it became too muddy-looking.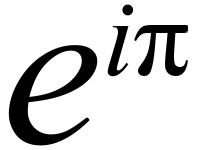 Placement: On the left upper arm.
This is an idea I had for a tattoo a couple of years ago. Euler was responsible for discovering the famous equation eiπ = -1, or as it's often expressed, eiπ + 1 = 0. This tattoo avoids the extras and just concentrates on the remarkable part, where three seemingly unrelated constants come together. It's a charmingly mysterious reminder that mathematics is a game that seems to play by its own rules even though we invented it. I'm actually kind of surprised that this tattoo idea isn't already a wildly popular one, at least among math geeks.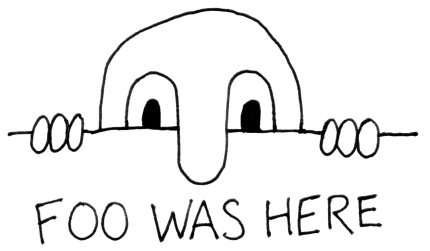 Placement: On the lower back.
"Foo was here" is the British/Australian version of our Kilroy (and was probably the basis for the latter) — though my main reason for choosing Foo over Kilroy is the term's significance in computer programming. For maximum effect the tattoo should be oriented sideways, so as to suggest that it was drawn on my back while I was laying on my side, asleep. There is absolutely no personal significance to this one, other than making a simple visual joke.