Create an illustration to a scary story. As usual, you can use ink, oils, photography, pencil, crayon, Photoshop, needlepoint, ASCII-graphics … whatever medium works best for you. A realistic style is not required, but try to avoid the purely abstract. The idea is for the illustration to be recognizable, at least to someone familiar with the story.
You can use any story you like as the source for your illustration. Include with your illustration a pointer to the story, and the specific scene you've chosen to illustrate. For well-known, freely available stories (e.g. something from Poe or Lovecraft) you can simply supply a sentence from the story as a caption, as was commonly done in full-page illustrations in 19th-century books. For stories less widely familiar, please include a short excerpt from the story that your illustration should accompany, so that we may appreciate your artwork in context.
The Results
Brian Raiter
From The Figure in the Shadows, by John Bellairs: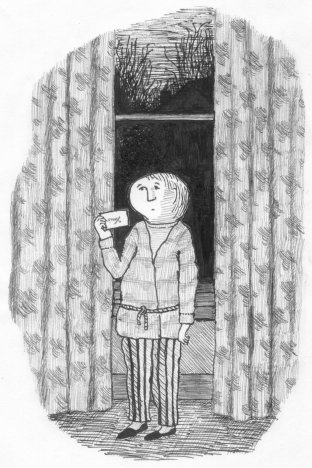 Lewis sat there wondering for a few minutes. Then he got out of bed, put on his slippers and bathrobe, and padded downstairs to the front hall. There on the floor, just below the mail slot, lay a postcard.
Lewis picked the card up and carried it over to the hall window. The gray light of a full moon was streaming in. It was bright enough to read by—but there was nothing to read. The card was blank.
Lewis began to feel creepy. What kind of a message was this? He turned the card over, and was relieved to find that the card was stamped and addressed. But the stamp looked very old-fashioned, and the postmark was so blurred that Lewis couldn't tell where the card had been mailed from. The card was addressed in a neat, curlicued hand.
Master Lewis Barnavelt
100 High Street
New Zebedee, Michigan
There was no return address.
Lewis stood there in the moonlight with the card in his hand.
Ryan Finholm
From The Horror at Martin's Beach, by H. P. Lovecraft:

On May 17 the crew of the fishing smack Alma of Gloucester, under Capt. James P. Orne, killed, after a battle of nearly forty hours, a marine monster whose size and aspect produced the greatest possible stir in scientific circles and caused certain Boston naturalists to take every precaution for its taxidermic preservation.