Pick a painting, drawing, photo, poem, story, novel, song, film/video, or anything else that is in the public domain. If it is a poem, story, novel, or song, create one or more illustrations (or photo, or video) for it. If it is an image or film/video, write a poem, short story or song for which that image will be the illustration.
The Results
Brian Raiter
Original: untitled illustration by Sir John Tenniel, from Alice's Adventures in Wonderland (1866)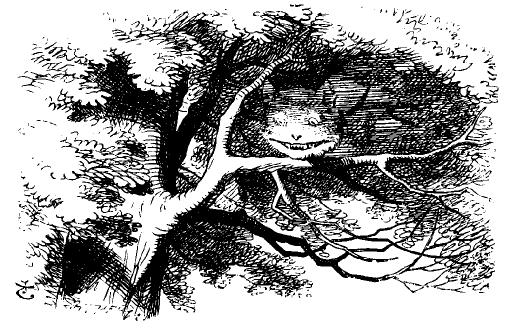 Pareidolia
The eager eye explores the world for faces,
And will until the day that it falls blind.
The people that one knows have left their traces:
Their lineaments leave footprints in the mind,
And are entrenched with every repetition,
Enough so that an aimless scene can find
A knot of neurons primed for recognition.
Some clouds amassed above the cityscape
Can form a temporary apparition,
Or sunlight spattered on a window drape:
A scattered half-pattern, shuffled by the breeze,
That briefly hits upon a certain shape.
It's scarcely abnormal that one sometimes sees
The face of a former cat among the trees.